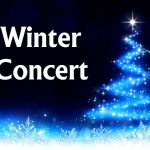 This year's Winter Concert "Paint the Town December", is a multicultural musical and will be presented on two days. (2 afternoon & 2 evening shows). 1:30pm and 7pm performances. Doors open at 1pm & 6:30pm both days.
Wednesday, December 11 – Odd numbered divisions
Thursday, December 12 – Even numbered divisions
Details about concert dress will be sent home shortly.